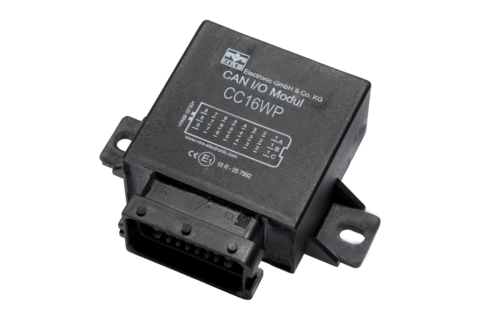 MRS CAN I/O CC16WP
The CC16WP is the latest and best CAN I/O generation. The 32 bit processor, provides you with more processing power and thus faster computing cycle times. You also benefit from more powerful gateway functionality and complex programming options for your applications.
Due to the enormously high flexibility of the multifunction inputs, the new CAN I/O is ideally equipped for a wide variety of cross-sector applications. The own supply voltage can be measured internally via terminal 30 without having to assign another pin. The proven perfectly dimensioned CAN I/O housing for narrow installation spaces and the connector of the WP series have been retained. This allows a high protection class of IP 6K6 to be achieved. Due to the pin compatibility to WP PRO V2 the possibility for a simple performance upgrade is given.
Use the CAN controller as an I/O module in a CAN network as well as a stand-alone and intelligent PLC. With our software tool MRS Applics Studio you can program the functions yourself, quickly and easily.
Technical specifications
NXP S32K-Processor
16 In-/Outputs
6 analog inputs switchable 0–16 V/0–32 V
1 kΩ pull up against VRef
Current input (330 Ω against GND)
8 I/Os
8 Digital, positive switching PWM outputs 9–30 V
1 CAN-Interface, optionally CAN FD capable
2nd Interface: Optional LIN-Interface, 2nd CAN-Interface or RS232-Interface
CAN/LIN Wake-Up-Function
512B Flash memory, 64KB SRAM
Size 95 x 76,86 mm