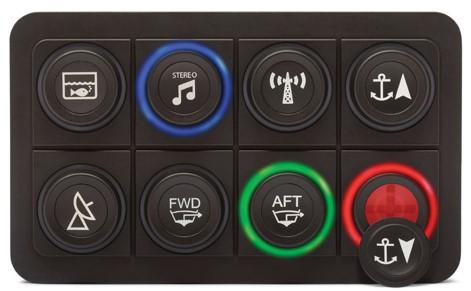 Blink PKP 2400 LI
Keypads in the PRO series are the only ones currently on the market that boast keys with removable inserts. PKP-LI series is designed with large, 24 mm inserts that are easy to press, even while wearing gloves. The use of open protocols makes keypads in the PRO series perfect for both automotive and nautical markets.
Technical specifications
Unlimited options for the GUI (Graphical User Interface), which can be modified at no extra cost thanks to a system of icons set on removable inserts;
Highly compatible with onboard systems thanks to the use of CAN standard protocols like J1939 and CANopen;
Highly resistant, even in difficult atmospheric conditions, boasting an IP67/69K water-resistance standard and resistant to shocks, knocks and vibrations, as well as extreme temperatures (-40°C [-40°F] / +80° C [+176°F]);
Endless array of customization options for the 8 LED lights, both as indicator lights and as ambient illumination.
Size: 94 x 156,5 mm.