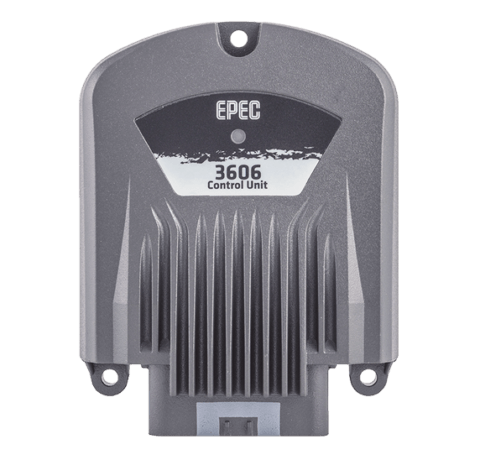 EPEC 3606 CONTROL UNIT
Epec 3606 Control Unit is a compact and robust multifunction controller with a high calculating power. It can be used as a stand-alone controller for smaller systems or as part of a bigger, decentralized control system. Epec 3606 control unit has 21 I/O pins in total.
The unit's casing works to protect the electronics against mechanical wear. The leak-proof zinc/plastic housing has also been widely tested against different environmental conditions. The unit is equipped with a signal LED for diagnostics. One CAN is also equipped with double pins to make cabling easier since there is no need for branches in the wire harness.
Technical specifications
Processor: 16/32 bit CPU
Flash memory: 1,6 Mbyte
RAM: 138 kbyte
PLCopen application size: up to 768 kbyte
CAN: 1 or 2
I/O: 21 (13 inputs + 8 outputs)
IP class: IP67
Temperature range: -40 … + 85 °C / -40 … +185 °F
Connectors: 1 x AMP 35
CODESYS version: 2.3
Supported CAN protocols: CANopen, SAEJ1939, ISOBUS
Two-colored diagnostic LED for quick status check and fault detection