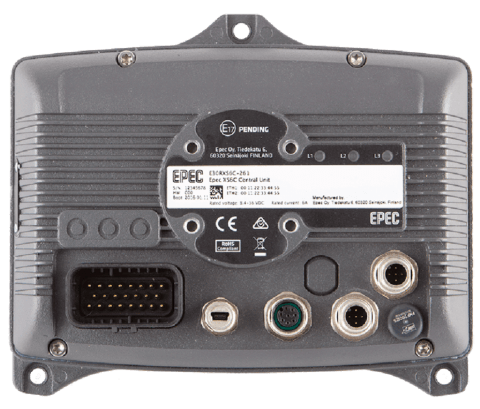 EPEC XS6C CENTRAL UNIT
Epec XS6C Central Unit is targeted to be used as a master unit in centralized intelligence systms. Epec XS6C has up to 6 CANs to connect it with other devices and 2 Ethernets to enable, for example, IoT solutions. XS6C is wrapped in slim and leak-proof rugged aluminum housing and it's three diagnostic LEDs offer you quick status information.
Together with Epec's IoT Services you'll also get the fastest to configure and most reliable IoT system/remote management solution in the market.
In case there is an occasional need for a graphical interface in the machine,  with Epec 6200 and WebVisu solution you can use, for example, a smart phone as a temporary HMI when the machine is running.
Technical specifications
Processor: 32 bit dual/quad core CPU
Flash memory: 4 or 32 GByte
RAM: 1024 MByte
CAN: up to 6
Ethernet: 2
USB: 1
I/O: 5 (3 inputs and 2 outputs or 5 inputs and 0 outputs)
IP class: IP67
Temperature range: -30 … + 65 °C / -22 … +149 °F
Connectors: 1 x AMP23, 2-4 x M12
CODESYS version: 3.5
Supported communication protocols: CANopen, SAEJ1939, MODBUS, NMEA 2000
3 three-colored diagnostic LED for quick status check and fault detection