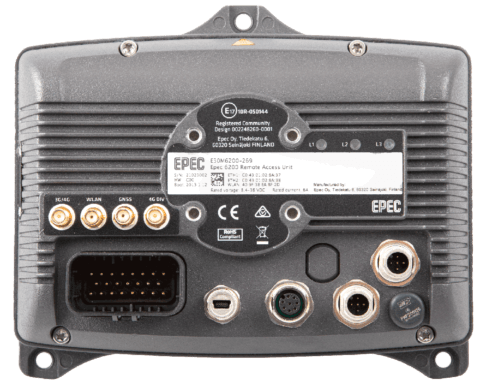 EPEC 6200 4G/LTE REMOTE ACCESS UNIT
Epec 6200 4G/LTE Remote Access Unit (RAU)offers versatile possibilities for remote access. Epec 6200 4G/LTE has a wide range of communication interfaces and it is wrapped in a slim and leak-proof rugged aluminum housing. Three diagnostic LEDs offer you quick status information.
Together with Epec's IoT Services you'll get the fastest to configure and most reliable IoT system/remote management solution in the market.
In case there is an occasional need for graphical interface in the machine, with Epec 6200 and WebVisu solution you can use for example a smart phone as temporary HMI when the machine is running.
Technical specifications
Processor: 32 bit CPU
Flash memory: 4-32 GByte
RAM: 1024 MByte
CAN: 2-6
Ethernet: 2
USB: 1
RS-232: 1
GSM / UMTS / HSPA+
WLAN
GPS / GLONASS
I/O: 5 (3 inputs and 2 outputs or 5 inputs and 0 outputs)
IP class: IP67
Temperature range: -30° … + 60°C /-22 … +140°F
Connectors: 1 x AMP23, 2 x M12, 3 x SMA
CODESYS version: 3.5
Supported communication protocols: CANopen, SAEJ1939, MODBUS, NMEA 2000
3 two-colored diagnostic LED for quick status check and fault detection
EPEC 6200 4G/LTE is available in following product codes:
E30M6200-223/223A
Dual core CPU, 2 x CAN, 2xEthernet, 4G/WLAN/GNSS, 4GB flash, CODESYS 3.5, Webvisu -223A with Epec SIM card
E30M6200-268
Quad core CPU, 6 x CAN, 2 x Ethernet, 4G/WLAN/GNSS, 32GB flash, CODESYS 3.5, Webvisu
E30M6200-269
Quad core CPU, 6 x CAN, 2 x Ethernet, 4G/WLAN/GNSS, 32GB flash, internal accelerometer, CODESYS 3.5, Webvisu